All Twin Head Units are Neutrally Buoyant!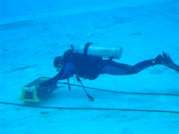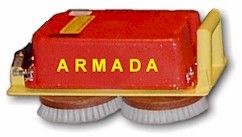 Twin 10" (254 mm) brushes operating in counter-rotation to clean 20" (508 mm) wide passes. Patent-pending design produces full 20" (508 mm) cleaning path with no void between brushes. Creates its own powerful suction force and forward motion. Counter-rotation ensures stability and eliminates reactive torque. High efficiency design for maximum power with low water flow. Effective against currents, wave pools, and floating river exhibits.
Original Inventors of Water-Powered Pool Scrubbers
All Armada water powered pool scrubbers may be compatible with your existing pressure washer.
Consult Armada for compatibility.
Cleaning Head Sold Separately Or In A Complete Turnkey Package
Designed for fast cleaning of smaller pools and exhibits
Standard safety feature-Deadman On/Off switch.

Auto Vortex™ suction enables Hydro Twin to climb a vertical smooth pool wall.
Hydro Twin pulls the diver along effortlessly
Turns two 10" (254 mm) brushes forward speed up to 100 feet (30.48 meters) per minute. Cleans a 20" (508 mm) wide strip.
Constructed with stainless steel and corrosion resistant marine aluminum.
Floatation collars covered with fiberglass jackets for easy removal and maintenance.
Easy to maneuver, it will turn within its own length.
Steering is accomplishes by applying a slight pressure up or down on control handles.
Brushes turn in counter rotation neutralizing torque, thus reducing diver fatigue.
All cleaning brushes are optional equipment. Armada manufactures 15 different brush materials.
Hydro Head is constructed of marine aluminum and stainless steel for maximum life and corrosion resistance in salt water environment.
Average payback of APS-T10, 3 to 6 months
CONTACT ARMADA FOR QUOTATION AND SPECIFICATIONS
Prices and Specifications Subject to Change Without Notice. Current Production Model May Be Different in Appearance.
We ship worldwide by air and sea!
Armada Systems, Inc.
Pensacola, FL 32534 USA
Phone (850) 912-8962 Fax (850) 912-8965
E-mail us at poolscrubber@aol.com